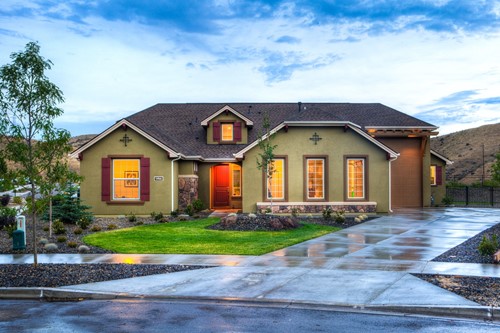 Your home's curb appeal refers to how attractive it looks from the street. Curb appeal can have a big impact on how quickly a home sells and how much it's worth. When your home looks its best, this can add value to your property so that you're able to expect a higher amount from buyers. Whether you're going to sell your home soon or just want to improve its appearance overall, there are several ways to boost its curb appeal. The following home remodeling projects can make your home look as impressive as possible.
Get a New Front Door
Getting a new front door is a simple remodeling project that can instantly improve your home's appearance. If you have a front door with an outdated style or a door that's showing signs of wear and tear, consider replacing it with a new one. Your new front door can bump up your home's curb appeal while also increasing its value, whether you get a traditional wood door or a more contemporary metal one. If you already have a newer door that's in good shape, consider repainting it to freshen it up.
Choose New Light Fixtures
Light fixtures might not seem important for curb appeal during the day, but they're essential for enhancing your home at night. Consider replacing older or plain light fixtures on the exterior of your home, such as your front porch, with decorative ones. You might also want to look into installing light fixtures that draw attention to certain architectural features, such as uplights or downlights. You can also add light fixtures along the sides of walkways or in your front garden.
Replace House Numbers
When you're looking for a simple and cost-effective way to boost your home's curb appeal, consider replacing the house numbers. If your house numbers have a faded look or if they're older and outdated, replace them with new, stylish ones. These new house numbers can make it easier for buyers to find your home when it's on the market while also improving your home's look overall. Make sure your house numbers are visible at night by adding a light fixture nearby if needed.
Paint the Exterior
The exterior of your home is a major factor in whether your home makes a good first impression on people. Your siding can become discolored or develop a faded look when aged and covered in dust and other debris. While you can power wash the exterior to remove this coating, also consider giving your siding some fresh paint. Painting the exterior can have a major impact on the way your home looks. You can paint the exterior using the same color as it is now, or choose a different tone to spruce up its appearance.
Replace the Roof
A roof that's in excellent condition is an important part of having excellent curb appeal. If your roof is showing its age with damage or discoloration, consider a roof replacement. While this is a costly remodeling project, keep in mind that you should recoup at least part of the cost when you decide to sell your home. You'll also have a brand new roof that enhances your home while protecting the interior from wind and rain.